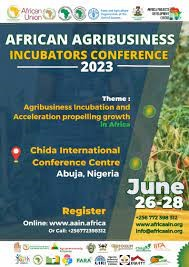 The head of the National SDG Secretariat attended the African Agribusiness Incubation Conference and Expo-2023, at Abuja Nigeria, 26th-29th June 2023 and presented a paper on Business incubation and acceleration in creating investment opportunities, jobs, employment, and wealth creation. Stakeholder Dialogues, Conferences and meetings.
The conference was convened for youth, women, business incubators and accelerators to increase investment opportunities for job and employment enhancement as well as wealth creation through business incubation and growth to expand trade in Africa.
The objectives of the conference were: To inspire and motivate youth and women to venture into agribusiness start-ups and SMEs; To position agribusiness incubators and accelerators as pathways for job, employment and wealth creation at the center of the emerging opportunities and the growth agenda within the AfCFTA region; To foster business research, technology commercialization, skilling and capacity development for effective economic transformation through agri-food systems in Africa; To mobilize investors and development partners to support business incubation and acceleration for trade and investment in Africa.